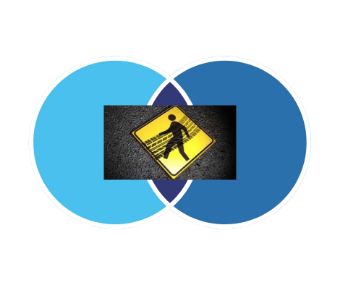 We've been following the news about the road diet project on South 13th Street in Lincoln since the fall of 2018. We provided our support to the project when local groups asked us to help get the word out. Our friends at BicycLincoln published a great overview of the project.
It did not surprise us that the city later reported in the Lincoln Journal Star that the project was doing what they wanted it to do:
"Staff had told City Council members who were leery of the project, called a "road diet," that they could change the lane markings back easily if the conversion project didn't work.
But it has worked very well, according to Lutjeharms. There have been few crashes since the new configuration was implemented in late October.
For safety thus far, it's been "overwhelmingly successful," he said.
There have also been few driver complaints or negative public comments since the early transition period, Lutjeharms said.
Unfortunately, neighbors are experiencing something different while trying to cross at 13th & D Street using the flashing pedestrian beacons.  According to an article on April 10, a neighborhood resident said, "he watches homeless people, moms with kids, children, people in wheelchairs and others press the button to activate the flashing yellow lights and then stand there waiting as traffic continues to cruise by, unfazed by the signals."  
So since I was in Lincoln for a meeting on Thursday, I thought I'd stop by and see this area for myself. As described by the pastor in the article, the area was alive with people walking. I observed a man pushing a youngster in a stroller across 13th Street, a woman waiting for the bus and several others walking within a 1 block radius.
Watch this video to see what I experienced when I pushed the button for the pedestrian beacon and tried to cross.
What is Bike Walk Nebraska's role in issues like this?  Besides being a cheerleader and supporter for local groups pushing for projects that improve safe and accessible active transportation, we track local issues and watch for patterns that might indicate a bigger, statewide issue.  Presently the word "CROSSWALK" seems to be at the center of the Venn Diagram for many issues we're seeing.
The first pattern emerging is that the laws meant to protect people walking seem to be written for the benefit of people in cars, and therefore, easier to blame the person walking in the event of a crash.
In the example of 13th & D in Lincoln, the Journal Star noted this:
"State law and local ordinance require the pedestrian to step into the street before a vehicle is required to stop at these Rectangular Rapid Flashing Beacons, or RRFBs, according to police."
Yep, check the fine print of statute 60-6,153: Pedestrians' right-of-way in crosswalk; traffic control devices.
(1) Except at a point where a pedestrian tunnel or overhead pedestrian crossing has been provided, when traffic control signals are not in place or not in operation, the driver of a vehicle shall yield the right-of-way to a pedestrian crossing the roadway within a crosswalk who is in the lane in which the driver is proceeding or is in the lane immediately adjacent thereto by bringing his or her vehicle to a complete stop.
Take a look at the video again. Would you feel safe stepping into the street in order to get the person driving the car to stop to allow you to cross? (I didn't.) Why having flashing beacons at all if you still have to put yourself in harm's way?
While digging into the statues I also came across this gem: 
60-6,155: Pedestrians to use right half of crosswalk.
Pedestrians shall move, whenever practicable, upon the right half of crosswalks.
You've seen how well people driving obey those stop lines at intersections, right? And have you ever been walking in a crosswalk in front of stopped cars only to have a car suddenly emerge in the right turn lane, encroaching on the crosswalk? I understand that the intent with this law is to facilitate a way for people walking in opposite directions in the crosswalk to do so in an orderly manner, but 60-6,155 sure makes it easier for drivers to be off the hook if they hit someone walking in a crosswalk.
So to summarize our plight thus far:
1. A flashing beacon is not enough; you have to physically put yourself in harms way by stepping into the crosswalk for the person driving to be on the hook to stop.
2. Walking in the crosswalk is not enough; you have to walk as far right as possible for it to really matter if you're in a legal pinch.
Yeah…. No. Our laws need to protect vulnerable road users, not make it easier for blame them.
We have more crosswalk issues that we'll highlight next week. Stay tuned for the "Where's the Justice?" chapter of our saga.  
In the meantime, know that Bike Walk Nebraska is researching and monitoring this issue and digging into crosswalk statues in other states to see if we need to craft a legislative solution to make our streets safer for people walking and biking. We invite you to support this work by becoming a member today. Click here to get started - it only takes a minute!
Julie