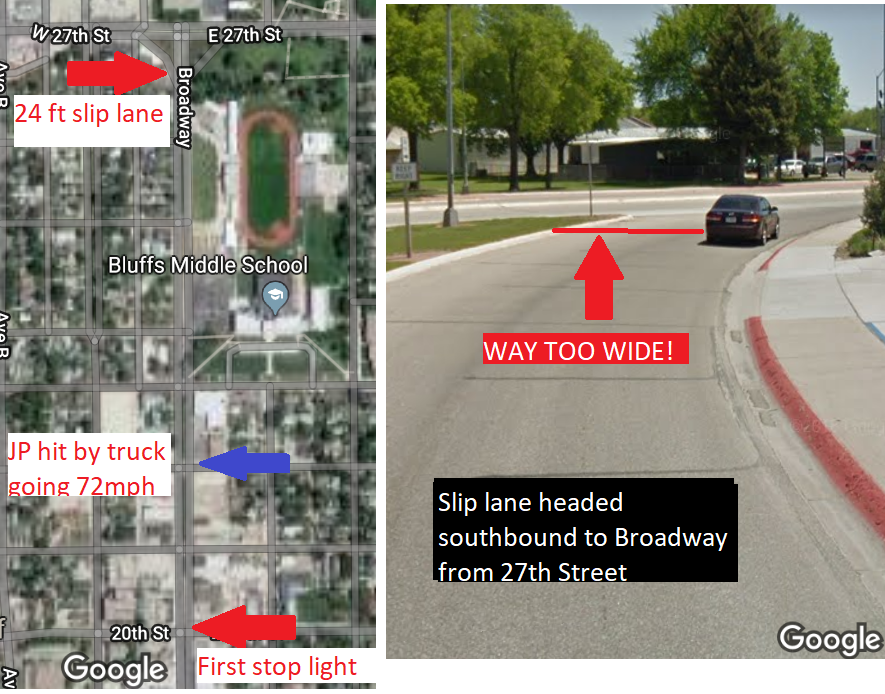 We've been following the news about a terrible crash that happened last month in Scottsbluff. It happened on Broadway - a child was struck by a person driving a pickup. Here's the initial description of what happened from the GoFundMe page (please consider donating)  set up to help the victim, JP:
On Wednesday, September 18th, JP was walking to his friends house when he was struck by a vehicle that was drag racing. As a result of this incident, he sustained multiple injuries including but not limited to, multiple fractures, internal lacerations, and road rash so severe the burn unit was called in to assist.
Media reports indicated that the skid marks from the truck at the scene of the crash were more than 200 feet long. How fast does a truck have to be going to leave 200+ feet of skid marks before stopping? 72 miles per hour. 
72MPH.  On Broadway.
It is a miracle that JP survived this crash. The majority of graphs I could find showing a pedestrian's chance of surviving a crash at various speeds topped out at 40mph (10% chance). When I finally found a graph with higher speeds, the fastest reported was 60mph with a 2% chance of survival.
Of course, survival is one thing; recovery is something completely different. The Scottsbluff Star Herald ran a follow up story on October 19 , detailing a mother's anguish and more information about the overwhelming recovery ahead of JP, including this haunting detail: "The numbers from the (truck's) license plate were "lacerated" into his side." 
I'm angry. This should never happen. Period. 
How is it possible for a vehicle to be traveling at I-80 level speeds on Broadway in Scottsbluff? Felony level behavior (drag racing at 72mph), facilitated by street design.
Before the by-pass around the city was built, Highway 71 traveled through Scottsbluff via Broadway. The highway traffic went away when then by-pass opened, but the highway design remained. A truck headed southbound onto Broadway from 27th Street has an interstate on ramp-like slip lane approximately 24 feet wide to use to accelerate onto two, 12 foot lanes of uninterrupted straightaway for almost a half mile before hitting the first stop light at 20th. JP was hit at 22nd St.
Before this crash, the City, prompted by a crash last spring involving a high school student walking across a different 4 lane street, hired a consultant to look at school zones. Scottsbluff's high school, middle school and one elementary school are located on wide, 4 lane streets. We hope that recommendations will be made - and more importantly, implemented - to make these streets safer. The safety of happy, back flip loving kids like JP should come before the convenience of vehicles. Every time. 
In the mean time, Bike Walk Nebraska will continue to monitor the charges against the driver that hit JP and advocate for safer streets, specifically, traffic calming that can be done on highways (or in this case, former highways) that become main streets when they hit the city limit signs of Nebraska communities. We'll also continue to pray and send healing thoughts to JP and his mom, Sarah. We hope you'll join us in both cases.