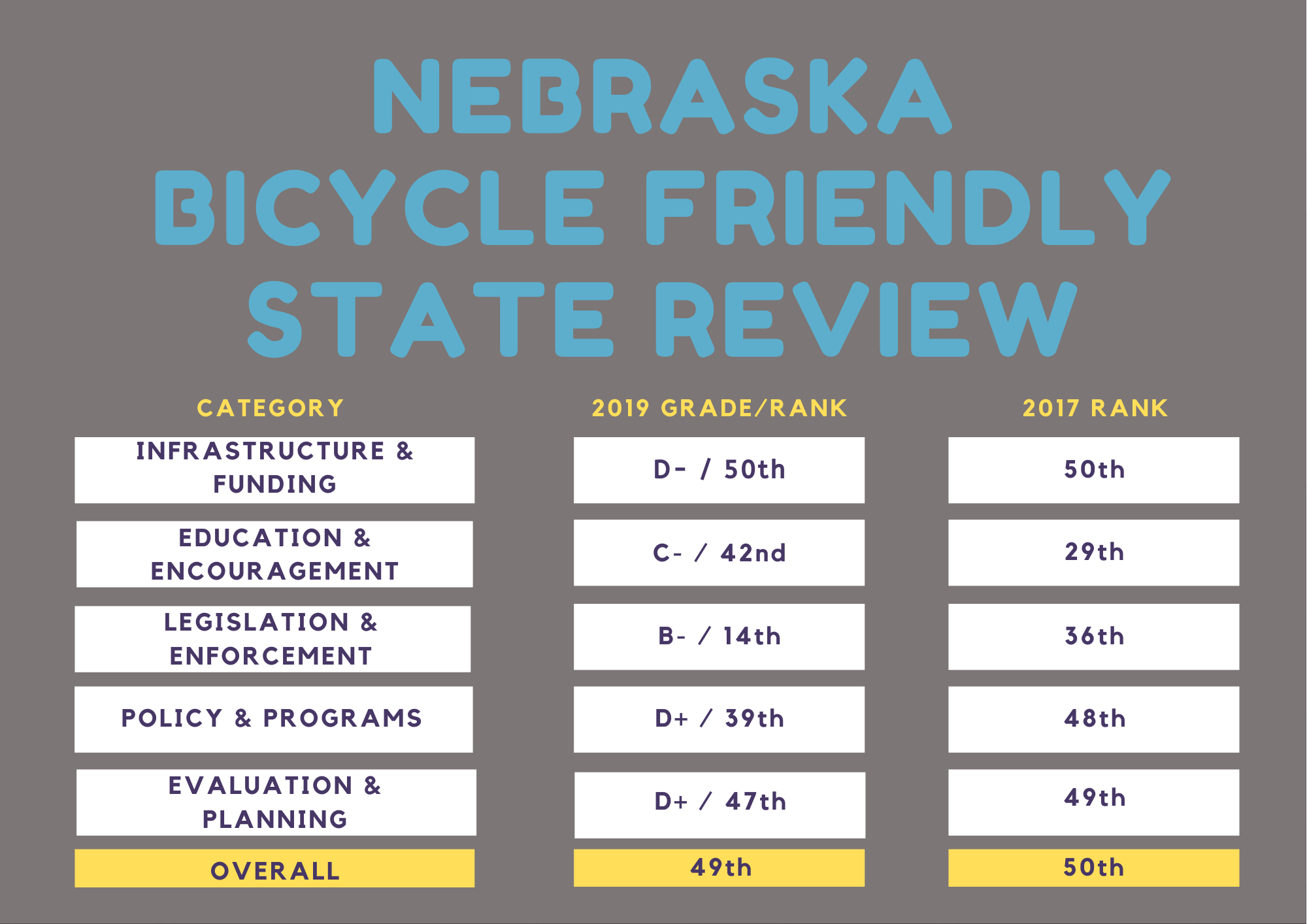 We have good news and bad news. The good news is that Nebraska is no longer #50 on the Bicycle Friendly State list; the bad news is that we've landed at #49. In football terms, we're 1-49, with our lone win coming over Wyoming. Over the next few weeks we'll take a deeper dive on the details of each category of the evaluation used to determine our ranking and how/if it has changed since 2017.
As a bit of background: these rankings are released every two years and are based on information provided by state transportation agency officials, in our case, the Nebraska Department of Transportation. The metrics used to evaluate bicycle friendliness are heavy on policy and are focused on things that the state DOT has jurisdiction or control over. In other words, things like the number of miles of beautiful local trails, the great events, the great people and the scenic gravel roads do not factor into these rankings, so don't take it too personally.
The Big Picture
The League has made some changes to the way they report the details of the rankings since the last round came out in 2017, but to see how we stack up, then and now, see the chart above.
The bad news: although we're not on the bottom anymore, 49th is not exactly cause for celebration. In honor of MLK Day, we'll use his words as an analogy for the good news: "The arc of the moral universe is long, but it bends toward justice."  In other words, change takes time; our work since the 2017 rankings came out is making a difference. You may remember us cheering the formation of a state level Bike/Ped Advisory Committee and the news that I got appointed to the Steering Committee of the state's Long Range Transportation Plan update efforts. Both of these can be tied back to the relationships we continue to build and the work we've been doing as a result of the feedback from our 2017 Bike Friendly State report card. And while these two things are still in the early stages, we're seeing momentum and cause for optimism. 
Stay tuned over the next several weeks for more insight into the details of the report card. We should be wrapped up with this series of blog posts just in time for us to switch gears to talk about what is happening on the federal level and our upcoming trip to the National Bike Summit where we will make our annual visits to our congressional folks on Capitol Hill.  
Process, Process, Process,
Julie