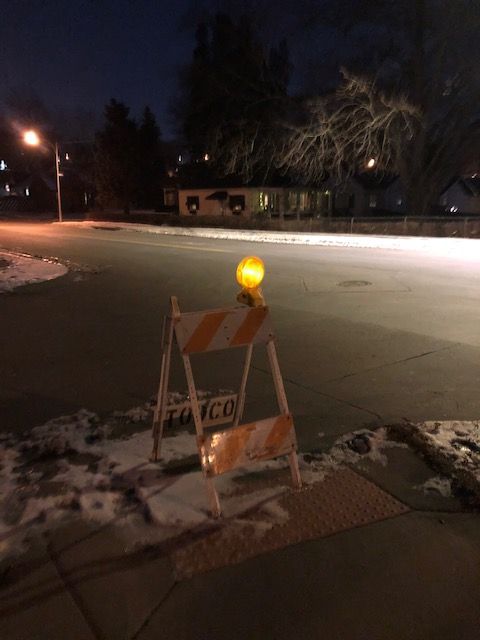 As you may remember from my previous blog post, I've been walking more in my quest to be more active in 2020.  
So - full disclosure - I am not graceful.  I tripped over a crack in the sidewalk that was big enough to trip over, but not big enough to see.  And Operations Coordinators don't bounce. I face planted in the middle of the street and ended up with two bruised knees, a bruised shoulder, some road rash and a few seriously hyperextended fingers.  Who knew I had the energy to walk fast enough for THAT!
But fall, I did.  After limping home, I began to wonder what in the world had caused me to fall that hard.  I walk that sidewalk every day and have never noticed a hazard. While walking the same route the next day, I stopped to inspect the newly-despised sidewalk section. It happened to be a recently-installed ADA ramp connecting the sidewalk and street.  The concrete had sunk below street level about an inch and a half or so. My first thought was what if I had been someone with mobility issues? Things could have been so much worse.
So after asking myself, "What would Bike Walk Julie do?", I set off to 'engage the process.'  I wasn't sure where to start, but decided to contact the City Council office. In your community, it may be a Mayor's hotline, the Public Works department or another point of contact at your local or county government office.  Chances are someone will be able to put you on the right path. By engaging the process, I got results! The very SAME day the offending crack had been spray painted with fluorescent green paint. And the very NEXT day a lit barricade was in place.  I'm confident the issue will be addressed permanently once the weather allows. 
My point is this: engage the process.  I could have just complained that my city has terrible sidewalks or doesn't care about pedestrians.  But the city didn't know there was a problem until I ENGAGED THE PROCESS. I advocated for myself and others by simply reaching out and the process worked. Engage the process...because Operations Coordinators don't bounce.
Onward and Upward,
Mona