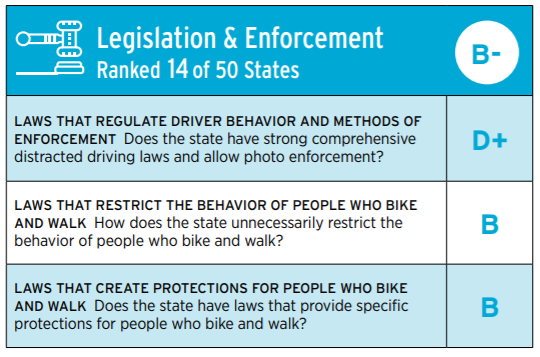 Legislation and Enforcement
This is part 4 of our ongoing series of blog posts that examine our latest Bicycle Friendly State Report Card.  If you missed any previous posts, click to get caught up:  Part 1, Part 2, Part 3.
Here's what the League of American Bicyclists says about this category:
The Legislation & Enforcement category is intended to provide insight into the laws that govern traffic in each state. Generally, these questions look at the existence or non-existence of specific types of traffic laws. Data in this category is often produced by the League of American Bicyclists as part of our state bike law resources. At times the issues for specific laws identified in our Bike Law University series are used to grade a particular type of law.
In some ways we redeem ourselves in this category with strong marks in two of the three areas. You'll pardon us if we take a moment to brag about the work we've done in the last 5 years that has contributed to this score. Past report cards dinged us for having a mandatory sidepath law (meaning you were legally required to ride on a sidepath/trail if it was directly adjacent to a road, regardless of the condition of the path) and we worked hard in 2016 to get LB 716 passed to abolish it. In that same bill, we got legal right-of-way protections established for bicyclists hit in crosswalks, equal to those of pedestrians. The feedback from past report cards played a crucial role in that work. 
The major stumbling block we have in this category is with "does the state have strong comprehensive distracted driving laws and allow photo enforcement?"
Nebraska is one of only 4 states remaining without a primary offense distracted driving law. For years, a coalition of safety organizations has championed a bill that would elevate texting while driving from a secondary offense to a  primary offense in Nebraska. Every year a bill gets introduced and every year it dies in committee. The opposition usually includes the tired mantra, "It's just too hard to enforce." (This was soundly debunked by the members of our law enforcement panel at last year's Nebraska Bike Walk Summit, by the way.) Iowa had a "Hands Free" law introduced this year and we are following its progress to see what we can learn.  
Photo enforcement tools like red light cameras have traditionally not been popular with Nebraskans and are currently illegal in the state. While a bill to legalize this type of enforcement would be extremely difficult to get passed, I have heard quiet support of these strategies popping up in some circles, especially in light of the tragic summer we had in 2019 with children like Abby, Jaycoby and JP being killed or gravely injured on Nebraska streets. It is an issue on our legislative radar screen, an issue certainly worth exploring. 
On a related note to legislation: we hope you'll take a couple of minutes right now to advocate for LB 921, the bill that would create the amazing "The Good Life is Outside" license plates for Nebraska. Not only is this a great design, but 50% of the fees collected go to the Nebraska Game and Parks Commission to be used for trail maintenance and construction! You can find a list of email addresses to easily cut and paste into an email here. Your letter doesn't have to be long and complicated; just indicate that you support this effort to help fund trails and you'd like to see LB 921 voted out of committee.