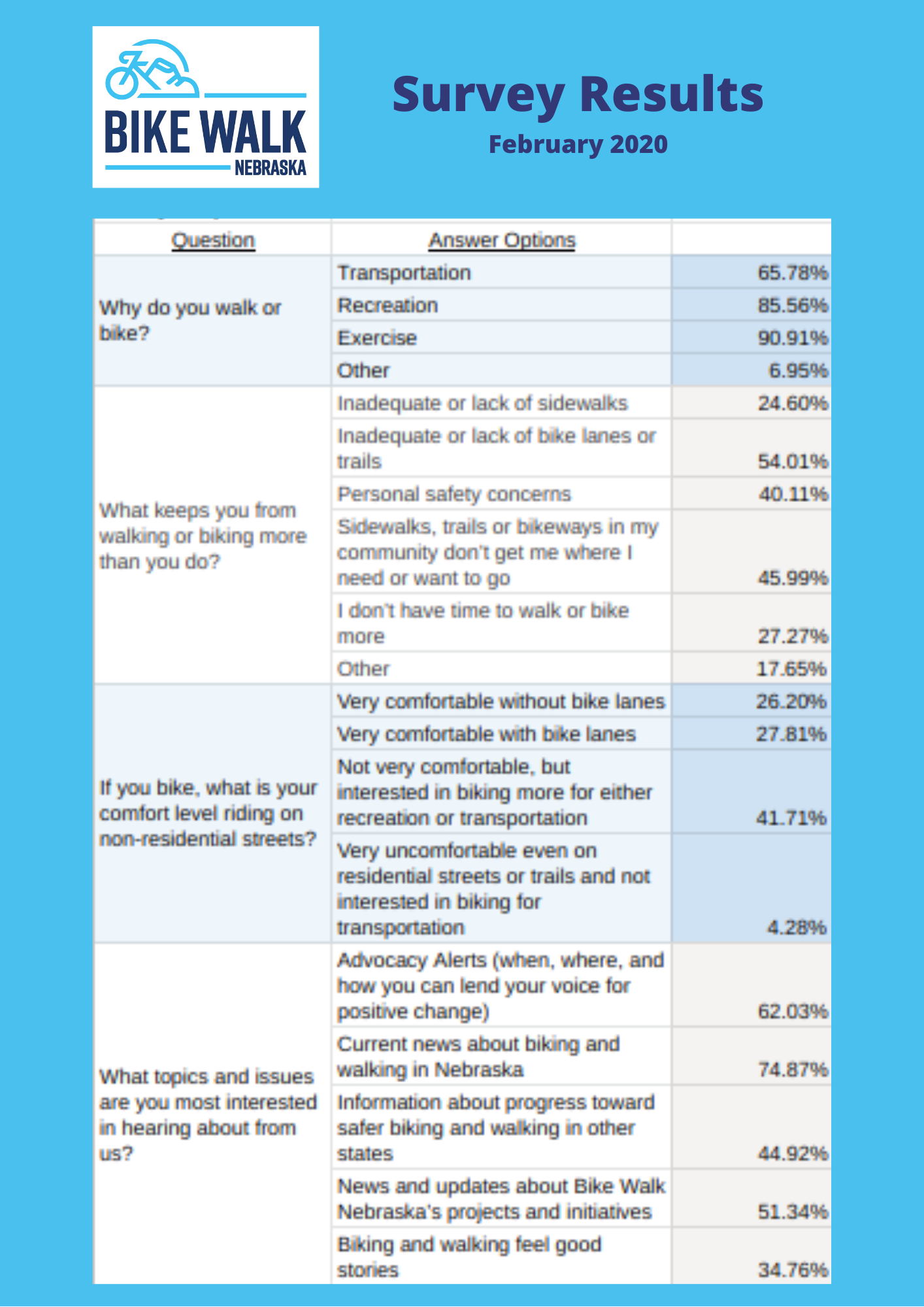 You may recall we recently put out a request for our followers and others to complete an informal survey about biking and walking in Nebraska.  Boy, did you respond! We received 187 responses from 35 communities! Thank you to everyone that participated.
The survey told us some very important things about you:
Almost 66% of you consider transportation at least one reason why you walk or bike,
54% responded the reason they don't walk or bike more is a lack of adequate bike lanes or sidewalks,  
50% experience sidewalks, bikeways or trails that don't take you where you need to go,
and 42% of you want to walk or bike more, but are uncomfortable; almost the same number of you (40%) that don't walk or bike more because of personal safety concerns. 
Our conclusion from this informal, unscientific survey is that our work is important and justified.  We operate based on the national statistic that 60% of people are interested in walking and biking more, but are concerned.  Our survey indicated 42% of you feel this way, but we assumed our followers and advocates would be more active and confident in their abilities which would result in our response being lower than the national average.  But we were surprised - our survey results show that our followers are greatly concerned and are inhibited from biking and walking more often.  
All the more reason for us to continue doing what we do.  We advocate for better infrastructure, safer laws that protect pedestrians and bicyclists, and mobility justice for all.  Walking and biking for transportation is not a privilege in Nebraska, it is a right and we intend to keep working with state senators, state agencies, local officials and decision makers to ensure the needs of those biking and walking are considered when policies and infrastructure projects are developed.
Our task is not an easy one.  In fact, it can be very frustrating and agonizingly slow.  But have faith that we will keep on working for you. We have accomplished a few things up until now including establishing a state level active transportation committee, AND we have secured a seat on the Long-range transportation plan stakeholder committee, giving us a chance to advocate for biking, walking and transit.  We've worked to modify highway rumble strips to be more bicycle-friendly, and lobbied for LB716 (104th Legislature), which gave bicyclists the same rights as pedestrians in crosswalks and abolished the mandatory sidepath law.
Our current list of tasks includes research and work toward Hands' Free and Vulnerable User laws, state law education (re: bicyclists and pedestrians) for the law enforcement and county attorney communities, additional Complete Streets training for Nebraska communities, and more research of pedestrian/bicyclist crash fatality reports in urban areas.
We are not stopping.  We hear your concerns.  Thanks for your support and for completing our survey.
Onward and Upward,
Mona