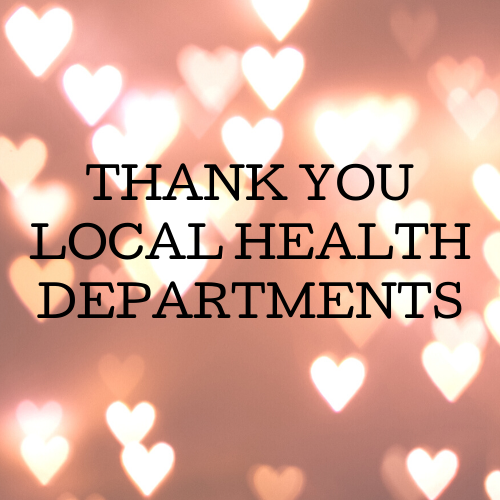 Greetings from Bike Walk Nebraska. Like many of you, we are working from home and dealing with all of the changes that COVID-19 has thrown our way.  These are not easy times; but rather than listing the various things we are dealing with, we think it is more important to highlight the work that our health department partners are doing right now. All of the training and technical assistance we provide to communities on Complete Streets is done in conjunction with these folks, and we've been working with them a long time. Here are a few of professionals we are blessed to know and work with:
We know that these folks would rather be working on ways to improve biking and walking in their communities, but for now it is "all hands on deck" and they have been pressed into service on the front lines. We are GRATEFUL for all that they are doing - knowing they are putting in long and stressful hours while trying to balance family at the same time, just like the rest of us.
To close, let's think about what our Health Department partners would say: take care of yourselves and PLEASE STAY HOME if at all possible. WASH. YOUR. HANDS. Take care of the elderly folks around you.
We'll add to this: remember that outside is not closed - get some fresh air and natural Vitamin D by taking a walk or a bike ride each day if you can. And please send prayers or good vibes to those on the front line working to keep us all safe.
Yours in curve flattening,
Julie