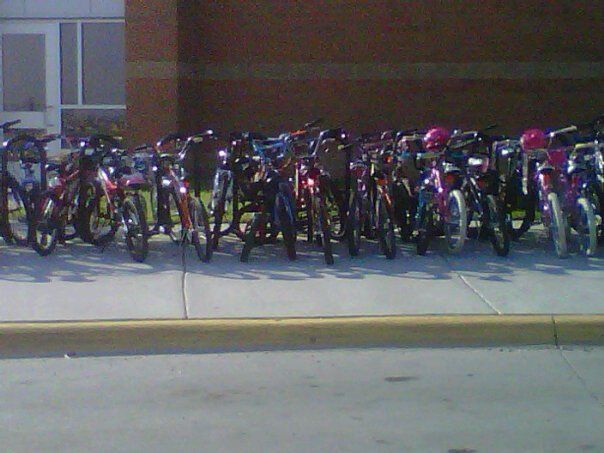 In the past 24 hours, the Universe has been dropping not so subtle hints about the blog post I need to write - four hints, in fact.  So here I sit, first thing Monday morning, barely into my morning coffee, with the words easily flowing from my brain and through my fingers.
I'm here to tell you what I know: the best thing EVER is kids on bikes. You can't convince me otherwise.
It started yesterday morning when I had occasion to see my buddy Shane and his mom. Shane just started 7th grade, but I met him when he was 5 years old ("But I'm almost 6!") when he came to the first Omaha DEVO session (kids mountain bike club) with his mini motorbike looking bicycle. As we assessed the skill levels of the kids that night it was clear that Shane was barely able to ride his bike, so as the beginner group took off with their coach, Shane and I posted up in the parking lot so that he could learn to pedal and stay upright at the same time. He was a quick study, and he showed up with enthusiasm (and eventually a different bike) each week. He gained confidence and fitness in leaps and bounds. Shane and I had many adventures that season riding through the trees and fields of Omaha's Tranquility Park mountain bike trails. We stopped every time we saw a cool spider or bug and we took several trips to the restroom. (Shane would usually consume the majority of water in his little pack before practice even started.) He eventually gained the courage to learn how to navigate up and over larger logs. There were many high-fives exchanged. Seeing his familiar smile yesterday brought the memories flooding back and my heart was warmed.
As I drove towards my next destination with my warmed heart after seeing Shane, I came across a mini bike train of sorts that got my attention: a dad and 3 kids on bikes about to turn onto the Keystone Trail, all wearing backpacks with a skateboard strapped to the back of them. I thought my heart was already as warm as it could get - but now this! It was bursting! Me being me, I immediately tried to figure out how I could maneuver to a place where I could ask them if I could take their picture. I was unsuccessful in that endeavor, so you'll have to take my word for it that it was SUPER RAD. I watched them get on the trail and head south towards the skate park that was about a mile ahead of them. (Hooray for trail connections to parks!) As I drove away, I thought, "Well, if this morning's events isn't a blog post, I don't know what is." 
While basking in the glow of my warm+bursting heart last night, I heard some commotion out my back door. Our house sits at the bottom of a fairly steep hill, backing up to a neighborhood trail. A group of neighborhood kids were outside, making all of the noises that a group of 10ish year old kids having fun make. They were riding up the hill on the trail and then taking turns barreling back down in the grass next to the trail. Some were willing to let it rip more than others, some were swooping back and forth a bit, but all of them were clearly having a blast. I told my husband that if I had a magic wand in my hand that I would "Bippity Boppity Boo" and create a fun little switchback-y singletrack down the length of that green space for those kids to ride. Despite my lack of a magic wand, this was next level warm+bursting heart territory now.
This morning I opened my computer with the plan of quickly checking my various notifications and then writing this post before the inspiration left me. My Facebook page reported that I had posted a very popular photo on this day in 2011, and wouldn't you know it, it was about kids on bikes. The weather on August 31, 2011 must have been great because Bike and Hike Wednesday was clearly a hit, as you can see by the photo I've posted here. I would lead the bike train up to the school from a central meeting place in our neighborhood every Wednesday in the fall and spring. You would think this memory would put my heart into absolute overdrive, but alas, the joy from this memory is offset by the bittersweet fact that the daughter that rode to school with me every Bike and Hike Wednesday (actually 98 out of 180 days that year - we tracked it!) is now away for her Freshman year of college. Nonetheless, I'm still sitting at a net positive on the warm+bursting scale; a photo of an overflowing school bike rack will get me in the feels every time.
Ride with your kids. Encourage them to ride with their friends. Volunteer for opportunities that get more kids on bikes. I promise you that your heart will be better for it. 
julie