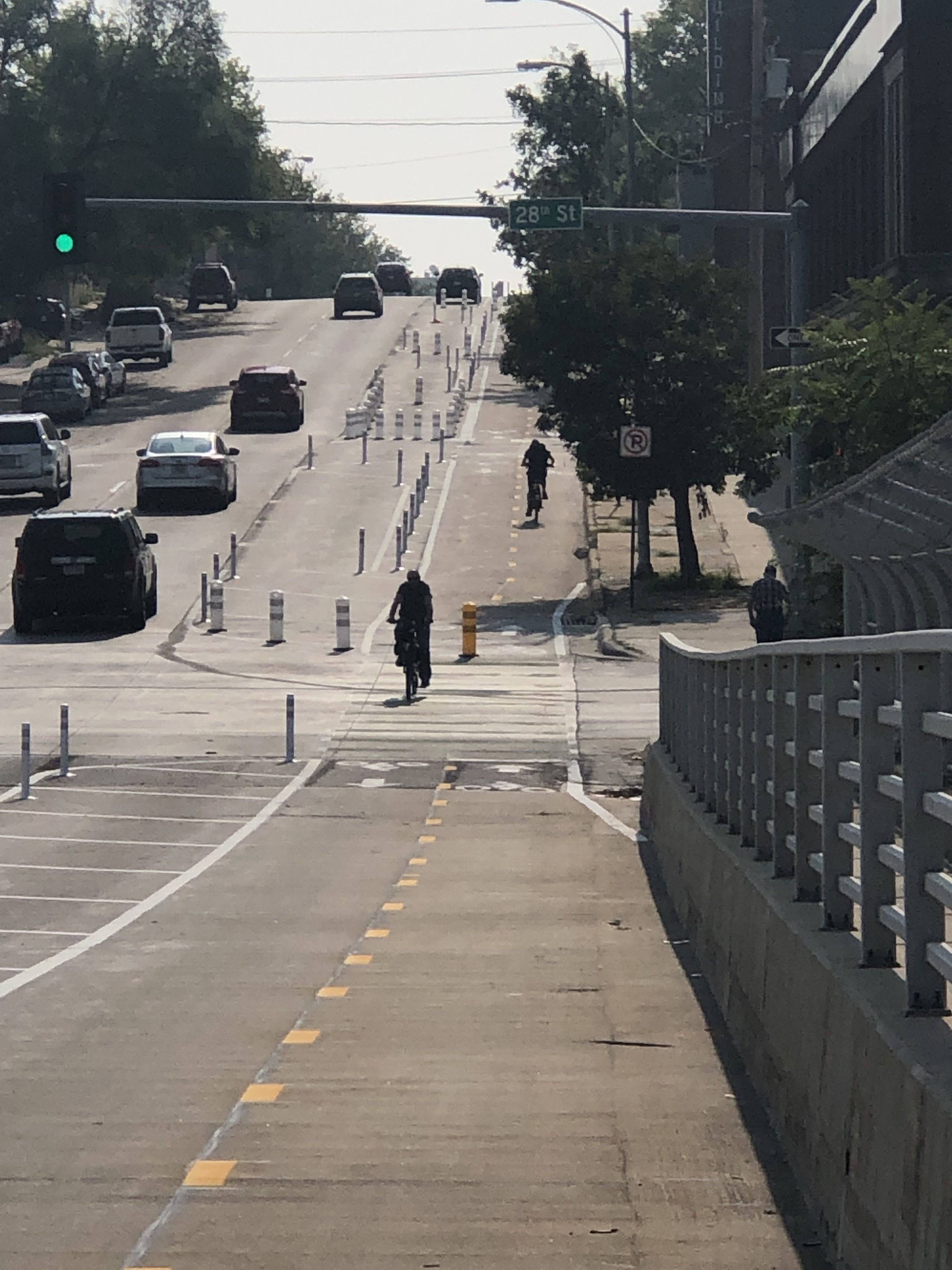 This past Thursday, the Bike Walk Nebraska team took a rolling staff meeting to check out the progress of the Market-to-Midtown pilot bikeway. After renting e-bikes from a Heartland B-cycle station in Midtown Crossing, we were soon cruising our way down Harney Street. You could say it was love at first ride, as the dedicated bike lane, protective barriers, and increased signage made the bicycling experience safer and more enjoyable. 
As we made our way toward the Old Market, we noticed countless riders enjoying the completed sections of the pilot bikeway. I quickly realized for myself how different riding the Market-to-Midtown bikeway felt compared with my usual route to get Downtown via Leavenworth. 
The protective barriers eliminated common stresses such as motorists making dangerous maneuvers to pass bicyclists and vehicles parked in the bike lane. 
On our return trip, I was eager to experience the contra-flow portion of the bikeway. I couldn't help but wonder whether riding on the bikeway against traffic would be awkward? I am happy to share that I found it very easy to get the hang of riding in the contra-flow lane and following the pedestrian signals. 
At home that evening, my husband and I shared stories about our day. I was bursting with excitement from the earlier bike ride and imagining what the Market-to-Midtown bikeway means for transportation in Omaha. My husband, Michael, shared in my excitement and wanted to ride the bikeway. We decided to make use of the partnership between Omaha Public Library and Heartland B-cycle and check-out B-cycle passes from our local library branch. We then used the bikeway to spend the rest of the evening together Downtown. I asked Michael for his thoughts of the protected bikeway, and with a big smile he replied with, "Three words: safe, empowering, and fun!" 
I think the words safe, empowering, and fun perfectly capture what the Market-to-Midtown bikeway means for Omaha. Protected bikeways are known to empower more people to feel confident bicycling by increasing active transportation safety. And with that feeling of safety, bicycling is so much fun! 
The pilot Market-to-Midtown bikeway construction will be completed very soon, and so I encourage you to go see the bikeway and all its beauty for yourself. When you do take a ride, feel free to share your experience on social media using the hashtag #BikeMarketToMidtown.