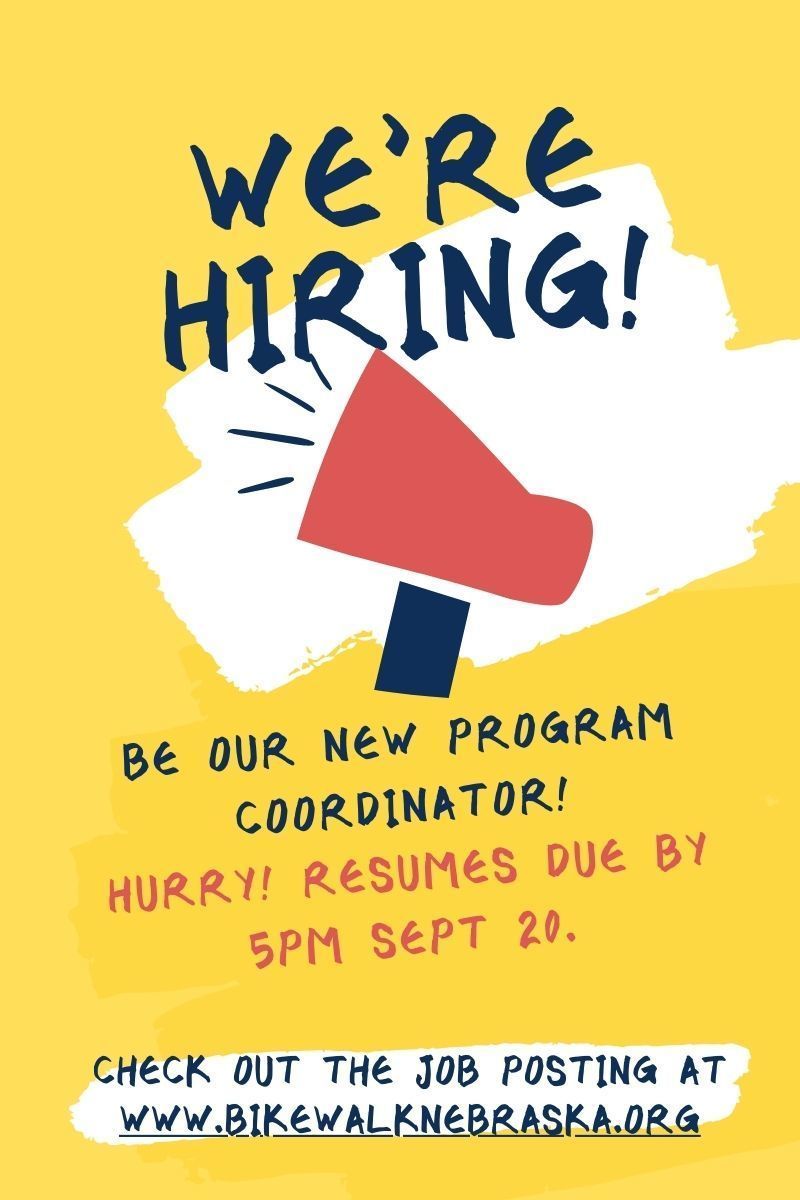 We are expanding our team! Apply before 5:00pm, September 20, 2021!
As you know, Bike Walk Nebraska's mission is to cultivate safe and accessible active transportation in Nebraska through partnerships, education and advocacy. We have a statewide mission and this will never change (Your Scottsbluff native Executive Director is especially sensitive to this. Ahem.)
Having said that, we have an opportunity to add a new person to our team that will focus on issues in the Omaha metro area. 
The Program Coordinator will help implement our new Trails and Transportation for Everyone initiative, working with existing and new partners to increase the number of natural surface trails and trail amenities east of 48th Street in Omaha with an emphasis on equity, access and community advocacy. In addition, this person will assist in coordinating outreach, stakeholder engagement, education and evaluation activities for related initiatives and assist in coordinating logistics and outreach to potential high school teams for Nebraska NICA. 
We are looking for someone with a Bachelor's Degree in a related field and at least 1-3 years of experience working in a non profit or community-based organization; previous experience working within the communities of north or south Omaha would be fantastic. Working knowledge about active transportation issues (walking, bicycling, transit) would be great, but we can teach the person what they need to know.  BIPOC candidates are strongly encouraged to apply.
If you are passionate about equity issues and consider yourself organized, self motivated and able to work independently, read on. If you are outgoing, comfortable giving presentations and have great writing skills, keep going. If all of this describes you AND you love being part of a small team and have the ability to be flexible, creative, and maintain a relatively good sense of humor during the usual ups and downs, we want to talk to you. 
Our office will soon be relocating to 49th & Dodge, steps away from the ORBT station. The job will occasionally require: evenings and/or weekends (meetings and events), travel (mostly for training/professional development) and the ability to work outside (parks, natural surface trails, bike lanes, outreach events). 
The full job posting can be found here. Please send your resume and a statement of 300 words or less (creativity is strongly encouraged!) about why you are a good candidate for this job before 5:00pm, September 20 to julie@bikewalknebraska.org. Interviews with promising candidates will be scheduled as resumes are received.