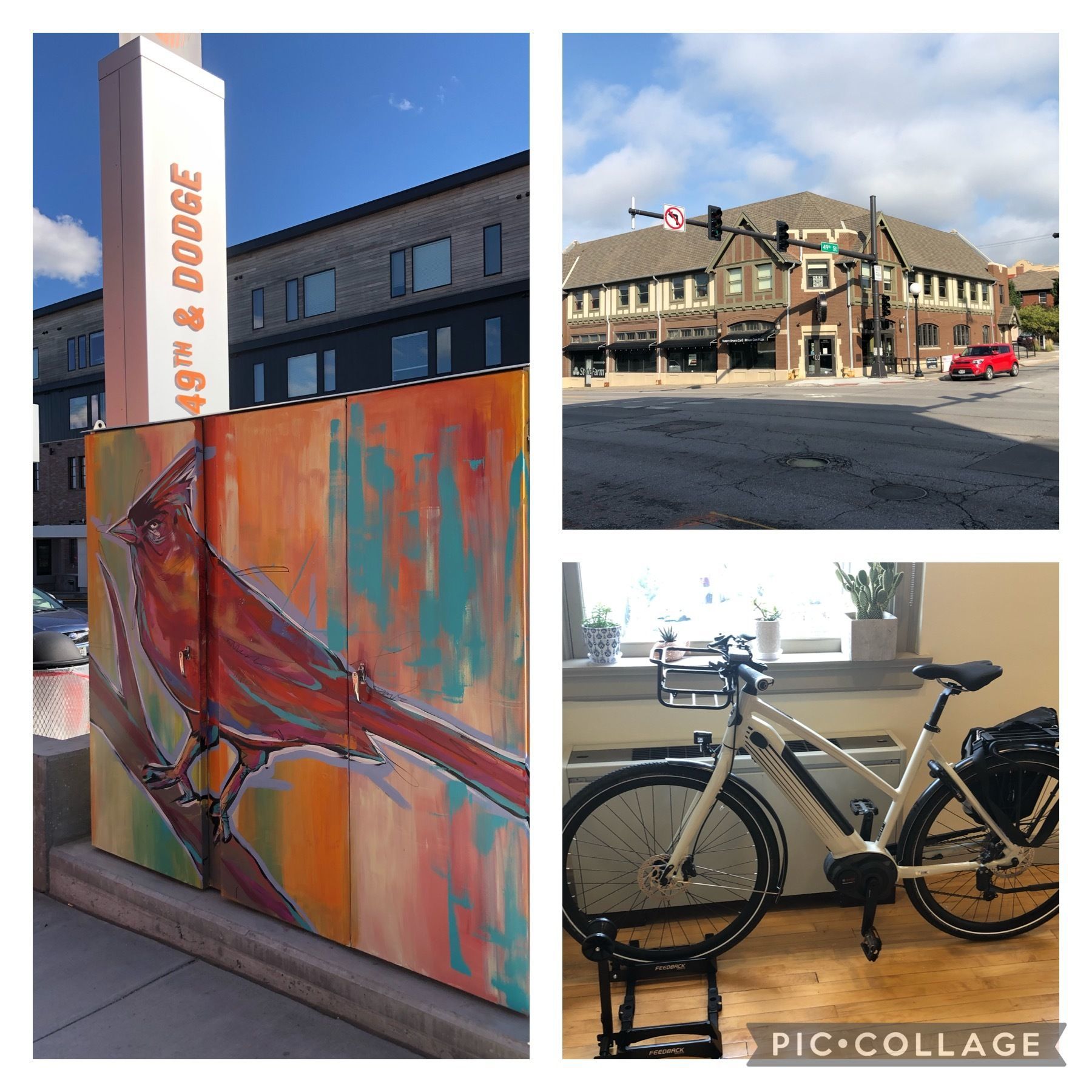 We are thrilled about our new office location at 49th & Dodge Street in Omaha. We've created a colorful, relaxed atmosphere in our space in the historic building and have enjoyed getting to know our neighbors. We love being able to walk one block to Lola's Café to pick up lunch or across the street to CVS to pick up any number of random things. Most of all, we love all of the multi-modal options we have to get to work.
When we started looking for a new office space, we had a challenging mission for our real estate agent, Jeanette Weber from Investor's Realty: we didn't need a ton of space, we didn't have a ton of money to spend, and we wanted to be adjacent to a Metro Transit ORBT (bus rapid transit) stop. Not only would ORBT be convenient for commuting to work, it would make it extremely convenient for us to get to meetings downtown without having to drive and pay for parking, and easy for our stakeholders to get to us. We are grateful for Jeanette's help in finding this needle in the haystack.
As you've read the past couple of weeks, Mona has been walking to work regularly and Annabelle has been arriving on her beautiful Bianchi bicycle occasionally, too. I live in northwest Omaha, so I have farther to come, but that doesn't mean I don't have options if I don't want to drive to work: I can bike or drive to the 144th & Dodge Park & Ride station to catch the express bus that connects to the ORBT line at the Westroads Transit Center. If my schedule doesn't line up with the limited express bus schedule, I can bike or drive to the Westroads directly and catch ORBT from there. Now that Metro Transit has updated their bicycle policy, I can ride my e-bike; I get to the bus stop in less time and with less sweat and can roll my bike right onto the bus. It's awesome. (To see how to use your bike on the bus, check this video.)
In order to support and encourage multi-modal transportation for our staff, we've added some new employee benefits. Now that Metro Transit is using the Umo payment system, we keep a couple of fare cards in our office that staff can use to travel to meetings during the day. We have indoor bike parking and offer an annual stipend that can be used for bike equipment or gear. We also provide B-Cycle bike share passes to our staff. (Spoiler alert: a new B-Cycle station is coming soon to the ORBT station on the corner!) 
Most importantly, we have been intentional about developing an organizational culture that allows flexibility in work hours and dress code. In other words, you'll never feel out of place arriving at Bike Walk Nebraska with helmet hair or looking a little wind blown from walking in the elements or wearing activewear and sneakers - in fact, we will cheer you upon your arrival.
We hope this series of blog posts inspires you to think about how you can add multi-modal transportation to your day. Remember, this isn't an all-or-nothing prospect; you don't need to sell your car to make an impact. Switching a trip or two per week from driving to an active mode, whether a trip to work or just a short trip from home to run an errand, can make a big difference in many ways.