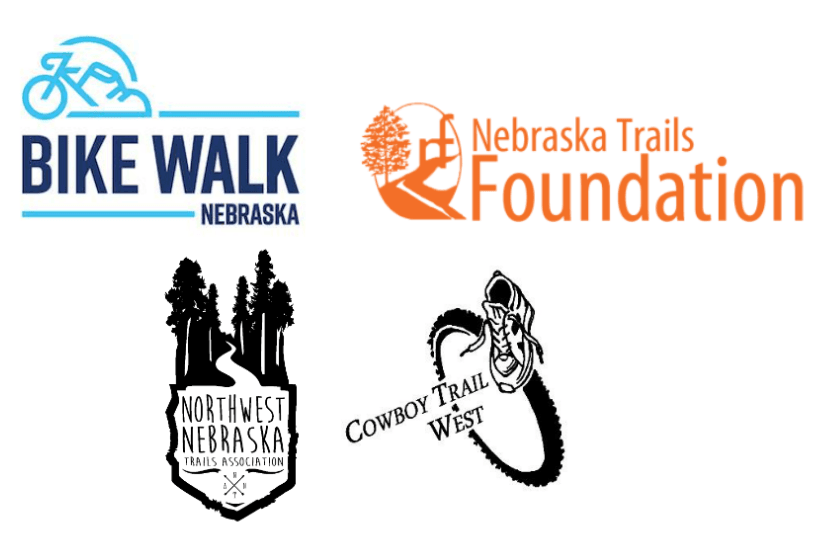 Organizations Partner to Form Cowboy Trail Coalition
Omaha, NE. (June 6, 2022) - Four nonprofit organizations (Bike Walk Nebraska, Nebraska Trails Foundation, Northwest Nebraska Trails Association and Cowboy Trail West) have come together to form the Cowboy Trail Coalition with the goal of working together to improving conditions, enhancing amenities, increasing awareness and advocating for the ongoing maintenance and completion of unimproved portions of the trail.
The Cowboy Recreation and Nature Trail, a Rails to Trails project that spans northern Nebraska between Norfolk and Chadron has 230 miles of completed trail and 94 miles of unimproved surface, mostly between Valentine and Chadron. Right of way for the nearly 325 mile corridor is a state asset under the purview of the Nebraska Game and Parks Commission.
Efforts are already underway to raise awareness about the need to complete the trail and improve maintenance, said Jason Buss of the Nebraska Trails Foundation. "Conversations with the Game and Parks Commission, local stakeholders, state senators and local trail organizations have begun. NTF held a state trails conference in April and it is clear that there is desire and momentum to find ways to make progress, and we know from the survey data in the Game and Parks' State Comprehensive Outdoor Recreation Plan that trails are the number one recreation amenity desired by Nebraskans," said Buss.
Julie Harris of Bike Walk Nebraska said that bicycle tourism has great potential in Nebraska if the Cowboy Trail can be completed and better maintained. "The Cowboy Trail is part of the bigger Great American Rail Trail, a route linking trails from Washington DC to Washington state. The small towns along the Cowboy Trail, which roughly parallels Highway 20, stand to benefit greatly from getting more people arriving on two wheels. By completing and improving the trail and working with the trail adjacent towns to improve bicycle friendliness we create more potential for a big economic impact. Local residents will also benefit from having the trail better maintained for their personal use."
The Northwest Nebraska Trails Association based in Chadron and Cowboy Trails West based in Gordon have been successful in getting portions of the trail built on the western side of the corridor. Brittany Helmbrecht of NNTA said, "We are in the process of building a connection from downtown Chadron to the trailhead of the Cowboy Trail. We know that many people who love being active in the outdoors travel through our area to and from the Black Hills; anything we can do to get them off the highway and keep them in Chadron for a longer period of time will be a boost to our economy and the Cowboy Trail is a big piece of that strategy.
Local trail groups and outdoor recreation advocates are welcome to join the coalition, which will begin coordinating efforts and goal setting in the upcoming months.
###