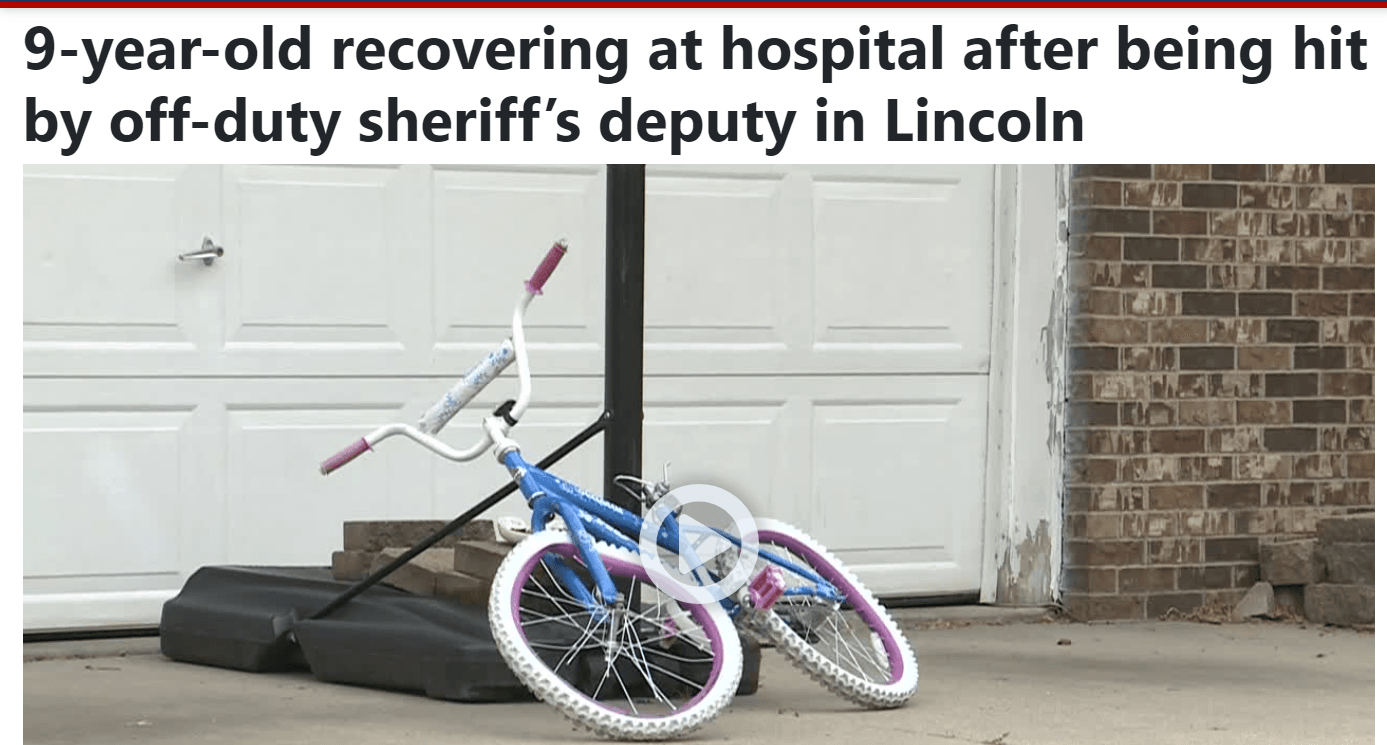 Bike Walk Nebraska Concerns About Bicycle Safety in Lincoln
Two kids were hit while riding their bicycles on consecutive days in Lincoln this week.
LINCOLN, Neb. (May 12, 2023) ⎯ After a second child, in as many days, was hit by a person driving a vehicle in Lincoln, Bike Walk Nebraska is expressing serious concerns about the safety in place for people biking and walking and accountability measures for drivers involved in these crashes. A 14-year-old boy was hit by a truck near 56th Street and Elkcrest Drive on May 11, suffering "serious injuries" and a 9 year old girl was hit by an off duty Lancaster County Chief Deputy Sheriff near NW 8th Street and W Jennifer Drive on May 12. She was admitted to the hospital with a brain bleed, skull fracture and concussion.
We join with many others in the community in sending our best wishes for full recovery to both of these children.
Unfortunately, this is not the first time a child riding a bicycle has been hit by a law enforcement officer in Lincoln. In August 2022, a 15-year-old boy lawfully riding a bicycle in a crosswalk was hit by a Lincoln Police Officer driving a police cruiser.
"It is disappointing to not only have those responsible for enforcing our traffic laws involved in avoidable crashes, but to hear familiar refrains of "she came out of nowhere" and "I only looked down for a split second" is incredibly frustrating," said Julie Harris, Executive Director of Bike Walk Nebraska. "Operating a motor vehicle requires a person to exercise the highest level of responsibility, undistracted, and watching for all users of the road, all the time," Harris said. "This was a crash, not an accident."
"Also in play with these crashes is the ongoing frustration with the press reporting irrelevant, victim blaming information such as, 'the child was not wearing a helmet.' The focus should be squarely on the person who was driving the car, not on the victim," said Harris.
At this time, no citation has been issued in either incident. Bike Walk Nebraska calls for accountability measures to be put into place for the law enforcement officers involved in these crashes, in addition to increased training.
Harris concluded, "May is National Bike Month for a reason; it is the time of year when the weather and school schedules converge, resulting in more people getting outside. Bike Walk Nebraska implores everyone who operates a motor vehicle to be mindful of the increased number of people biking, walking and rolling."