Speak Up!
Sometimes your support is as simple as emailing or phoning your elected officials to voice your support for safer active transportation.  Not sure who represents you?
Click here to search via your home address for your Nebraska legislative representative.
Looking for your Congressional representative?  Click on your district below.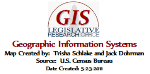 Not sure which district you're in?  Click here to search by your address.
Join our mailing list below and we'll keep you informed about current state and local issues to which you can lend your voice.