Bike Walk Nebraska believes everyone should have the opportunity to have walking and biking be safe and accessible, whether for transportation or recreation.
With robust community education, we focus on improving access to multi-modal infrastructure and programs.
Technical Assistance and Training
Bike Walk Nebraska travels across the state, training communities about Complete Streets, Safe Routes to School, walkable neighborhoods, and bicycle friendliness.
We also guide starting local advocacy organizations and helping communities understand their city's master plan and its consideration of safer streets.
Need assistance? Contact us.
Adult Learn-to-Ride Program
The Adult Learn to Ride Class is part of Bike Walk Nebraska's Nebraska Equity in Active Transportation (NEAT) Initiative. The class is designed for older teens and adults who have never learned to ride a bicycle or who have not been on a bicycle in a long time. The program aims to provide a comfortable and supportive learning environment for attendees to gain confidence and master fundamental bike riding skills.

Rural Work Plan
Bike Walk Nebraska is advocating for national recognition of rural active transportation planning and issues to produce a rural plan to accelerate the construction of safe, connected communities.
We can plainly see that our streets in rural areas aren't safe. However, the data required to make a case for projects or grant opportunities is prevalent in urban areas but nearly non-existent in rural areas.
Whether it's the economic benefits of bicycle friendliness or crash data to showcase the unsafe riding conditions, the lack of infrastructure, bike shops, and access prevent rural Nebraska from having the data commonly used for active transportation projects.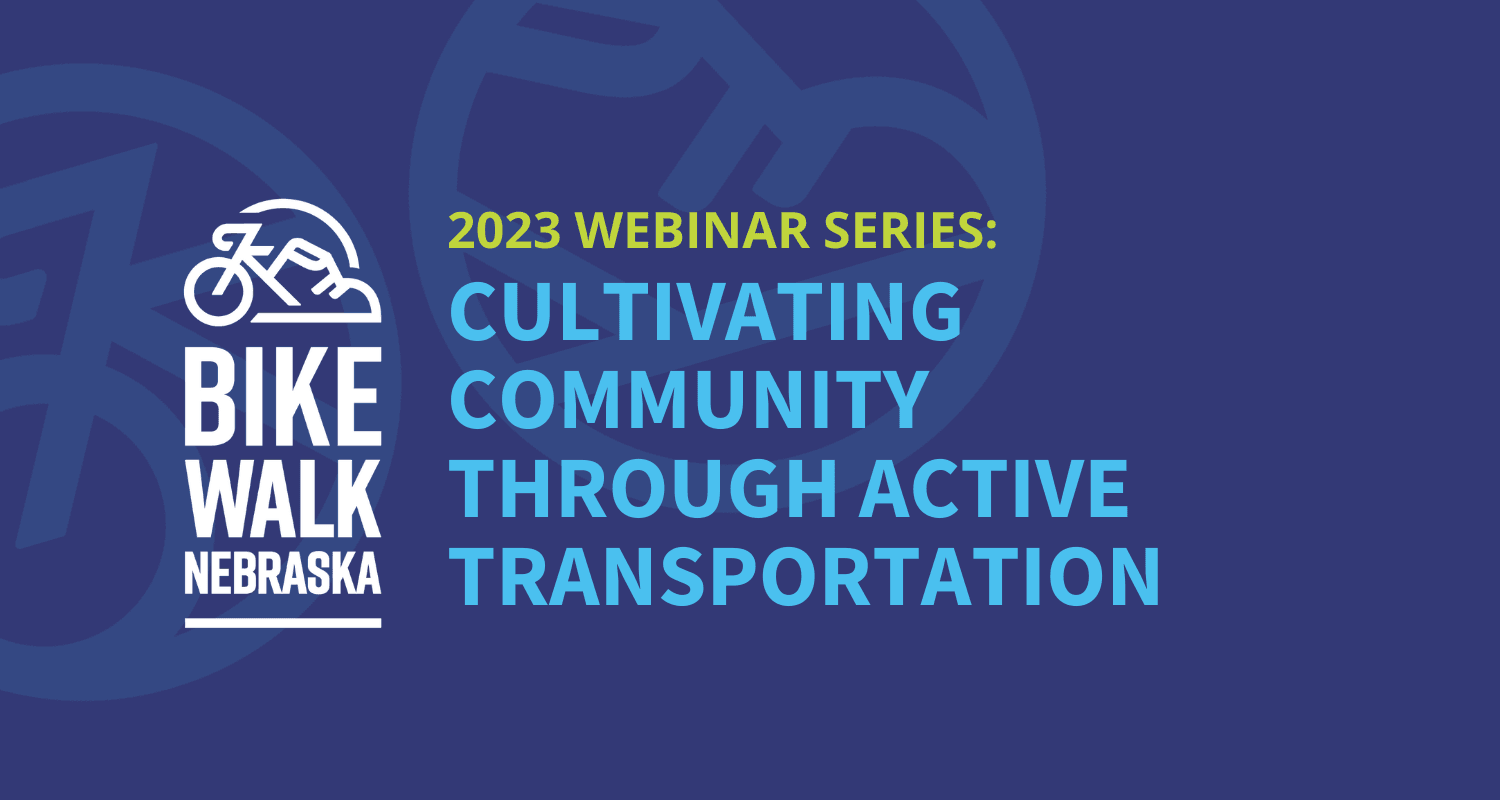 2023 Webinar Series
Within active transportation, three main sectors are impactful decision-makers and community stakeholders: planning professionals, recreation and outdoor industry professionals, and community advocates. 
The collective power of all three sectors influences the trajectory of infrastructure and policy. These webinars were carefully chosen to offer insight, education, and support on high-priority and relevant topics no matter how you interact with active transportation.
Complete Streets
We've been 'Zooming' in Nebraska's panhandle!  In May 2021, Julie conducted a Complete Streets 101 seminar for Alliance.  We look forward to continuing our work with them!