We offer several resources for Nebraskans interested in active transportation in our state:
Click here for information about state laws affecting bicyclists and pedestrians.
Interested in connecting with a local club or advocacy organization?  Find links here.
Click here to link to the Nebraska Department of Transportation Bicycle Map.
---
If You're in a Bicycle Crash
We're working to make Nebraska safer and more bicycle friendly, but unfortunately, crashes can still happen.  What happens in the first minutes after a crash can have a big impact on police reports, insurance claims and legal proceedings – all of which are the last things you're thinking about in that moment.  While we hope you never need to use it, this simple resource can help you navigate those chaotic moments.
You can download a copy here: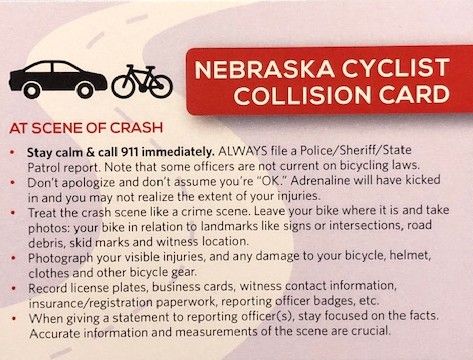 A big thanks to our business member Inserra | Kelley | Sewell for their sponsorship and to 5Oceans Creative for their design services!