We work to strengthen relationships with state senators, state agencies, local officials and decision makers to ensure the needs of those biking and walking are considered when policies and infrastructure projects are developed.  We are your voice for active transportation!
What's New
2019 Justice Project
Through the generous donations we received during the 2019 Omaha Gives and Give to Lincoln events, we were able to undertake a research project to gain critical information about bicycle and pedestrian crash fatalities in Nebraska.  We were able to work with a law school student and a noted professor from UNL to research and evaluate 146 crash fatalities over the last 10 years.
2020 Legislature
The 2020 Nebraska Unicameral Legislative session begins January 8. We're working with Senator Hilkemann on a bill that would create a new bike/ped license plate, with fees earmarked for trail maintenance and improvements.  We'll also be tracking bills and following developments on issues related to active transportation in Nebraska. Sign up for our email news and alerts below to stay up to date.
Advocacy Through Education
We had the opportunity to be a presence at the Nebraska County Attorney Association fall conference and provided information pertaining to state statutes affecting bicyclists and pedestrians.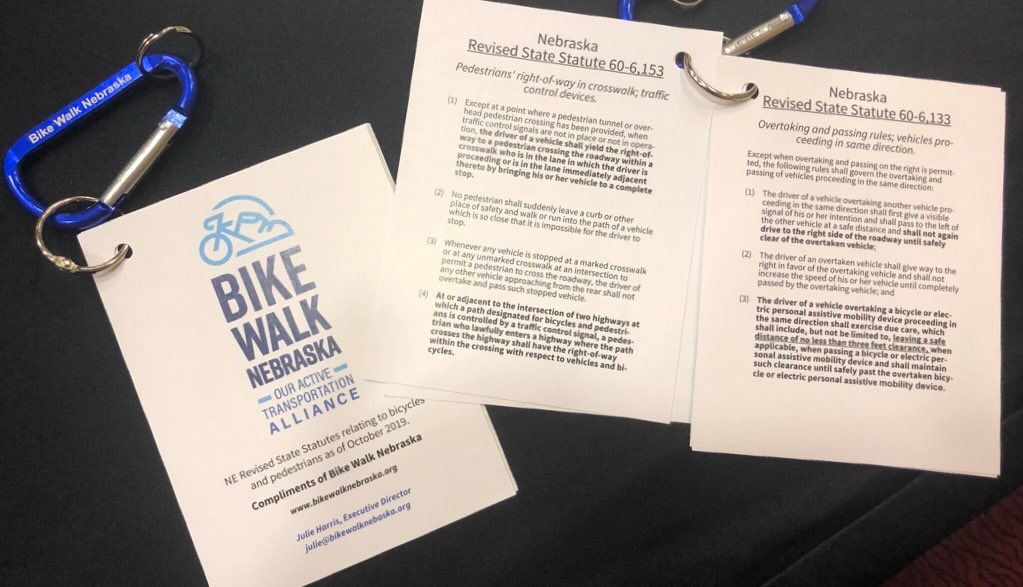 We will continue to seek opportunities to educate Nebraska's legal professionals and law enforcement about the rights and privileges of active transportation users.