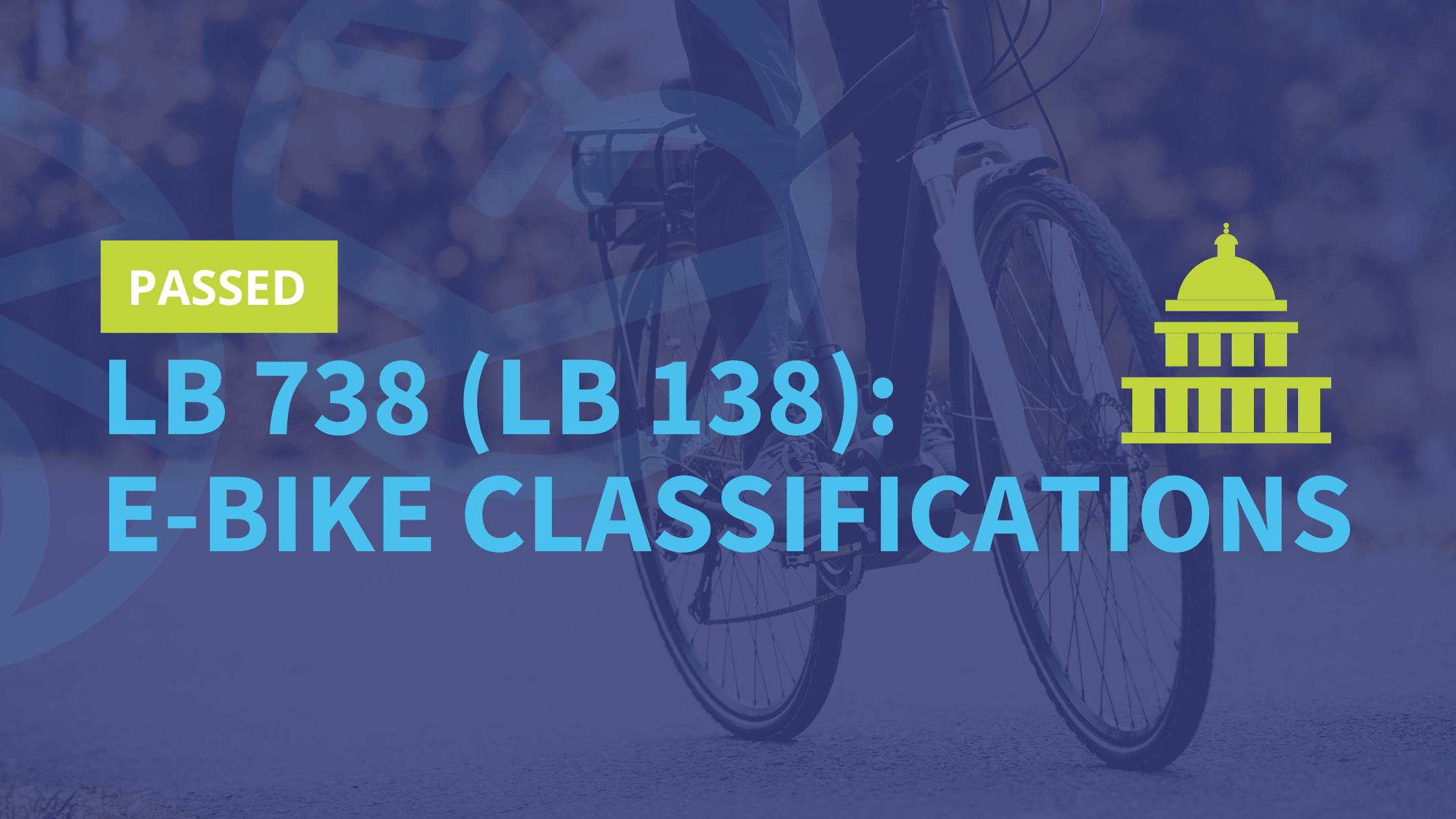 On day 87 out of 90 in the 2023 session of the Nebraska Legislature, Bike Walk Nebraska is celebrating an advocacy win: our bill, originally LB 738, has made it through the gauntlet and passed 41-0 (with eight excused, not voting and two present, not voting) as part of LB 138. Nebraska now has an updated, aligned with best practice definition of "electric bicycle" in our state statutes and a revised definition of "bicycle," including three and four-wheeled bikes.
We are grateful to sponsoring Senator Jane Raybould of Lincoln and her excellent Legislative Aide, Kate Wolfe, for their time, effort, and support of this bill.

If you didn't know BWN had a bill in the Unicam this session or are wondering if you missed any advocacy alerts, fear not: we deliberately kept this low-key. Since the bill merely updates the definitions of bikes and e-bikes, we wanted to maintain the focus of the bill's narrow intent. As a reminder, this bill does not update anything related to enforcement or access and is purely about classifying bikes and e-bikes across the state.
Why does this change matter? The electric bicycle market is expanding rapidly, making the phrase "no motorized vehicles allowed" murky. When Justin Johannes, the former operator of the Omaha BMX track, had kids showing up to ride with "e-bikes" that didn't have pedals (think strider bike with an electric motor) and as we heard more confusion about whether e-bikes are allowed on trails, we knew we needed to do something to guide policy-making better. Read our full statement from earlier in the legislative session here.
---
Nebraska now has an appropriately nuanced definition to point to for policy decisions. Essentially, this classification ensures we don't throw the baby (industry standard pedal assist bikes) out with the bath water (mini mopeds or aftermarket gas-powered engines added to bicycle frames).
---
This change also aligns Nebraska with several other states that have adopted this best practice language in their statutes.
Bonus Advocacy Win: When going over the finer points of the bill language, Kate Wolfe noticed three and four-wheeled bikes (adult trikes, three-wheeled recumbents, quadricycles) technically weren't covered by the statutory definition of "bicycle," and the passing of this bill also cleans up the language and definition of bikes on a statewide level.
---
Legislative wins are challenging, and we never take them for granted as they're the place for the most impactful, long-lasting systemic change to happen. Regardless of the narrow intent, a policy favoring cyclists and pedestrians is always a win worth celebrating.
---
Bike Walk Nebraska is proud to deliver another change to our state's laws that only improves future policy-making in our state.